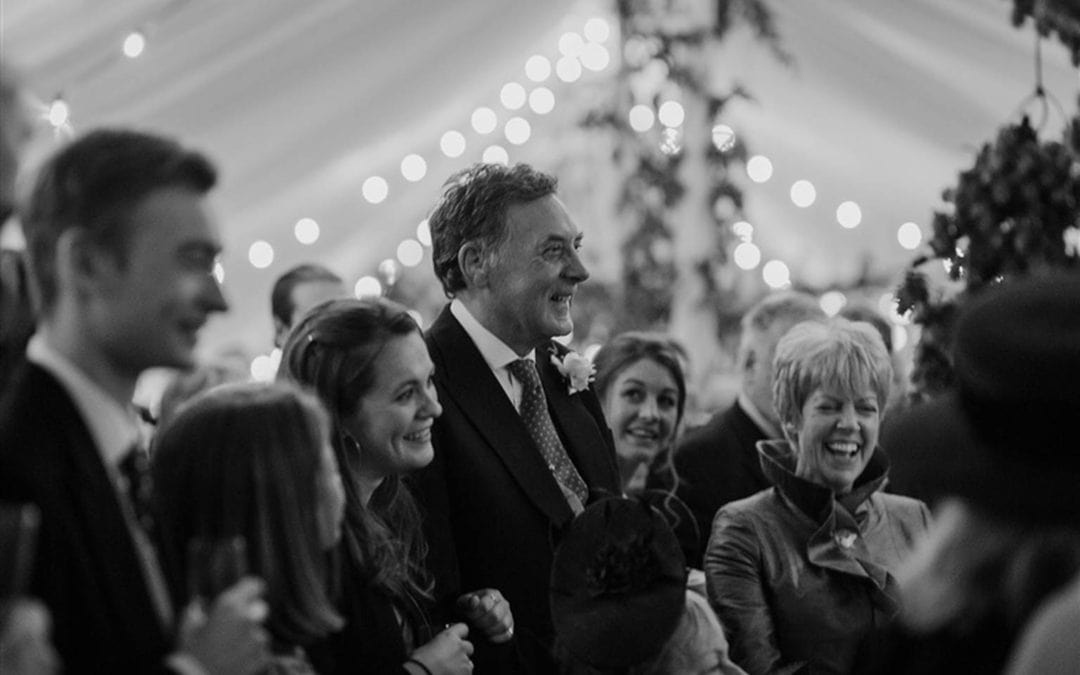 Wonderful Winter Wedding in a New Century Marquee
Adelaide and Ruaraidh's Breathtaking End-of-Year Wedding
Book a Marquee
Read more...
Beautiful New Century Wedding Marquee
With so many wedding marquee hire options available, it's easier than ever to hold a stunning outdoor wedding at any time of year. In November 2018, Myreton Marquee Hire was delighted to be a part of Adelaide and Ruaraidh's stunning nuptials in a private garden in Perthshire.
The romantic and lively wedding embraced the season's warm tones and cosy charm in both its design and its spirit. The couple opted for a 120 x 140 ft new century tent, which was ideal for toasting, dancing, and celebrating. The polished American redwood flooring provided the perfect space for a glitzy central bar, as well as room for a live guitarist and saxophone player to kick off the merriment and bring guests to the dance floor.
Bringing the outside world into the interior
The 6-metre x 3-metre entrance canopy was elegantly adorned inside with golden foliage to welcome guests into the comfortable space. Inside, the support columns also had the same rustic vegetation twisting up to the ceiling, which was highlighted by the warm interior lighting. As an experienced wedding florist with a love of nature and locally sourced flowers, Adelaide completed all of the wedding décor herself. The natural wooden tables featured delicate flowers in classic clear vases, alongside pale green tapered candles and bursts of verdant floral spray in the centre. The subtly draped lights above served to highlight the soft colour palette below.
A perfectly designed and proportioned space
The tent's clear side panels allowed for an abundance of natural light to flood into the marquee, as well as providing the perfect protection in case of a sudden burst of Scottish rain! In addition to outdoor seating, the couple also chose to add a 9 square metre chill-out zone to their layout. Guests were able to step into a charming and comfortable haven with floral sofas, luxurious rugs, and traditional lamps. The marquee was specifically designed to optimise space, ensuring that the food was kept in its own 9-metre x 6-metre catering tent. In fact, Ruaraidh was an expert in this area of the wedding planning as a chef offering dining services himself for a variety of events. Like Adelaide, his catering company focuses on local and homegrown ingredients and a love of the natural world.
As Adelaide and Ruaraidh's spectacular celebration illustrates, a wedding marquee can help to bring to life any couple's vision of the big day. If you would like more information about our product range, contact us at Myreton Marquee Hire and let us help you create the winter wedding you have always wanted.
MON – FRI 9.00am – 5.00pm
3 Northrig Cottages, Haddington, Scotland, EH41 4LE
Telephone 01620 825342
Drop Us a Line
Don't be shy. Let us know if you have any questions!